The North West Children's Major Trauma Network supports professionals working with children to improve outcomes for all children who have experienced a major trauma injury.
The Children's Major Trauma Network Team is based at Alder Hey Children's Hospital Liverpool and Royal Manchester Children's Hospital.
The network has robust governance arrangements. The constituent parts of this structure are: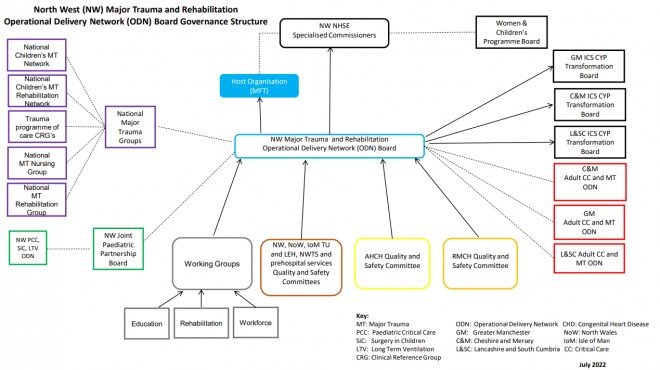 Pre Hospital Services Ambulance and Air Ambulance Services
The main transport service is provided by the North West Ambulance Service (NWAS). Children will also be brought on occasion to the Major Trauma Centre's from neighbouring transport services for example Wales Ambulance Service, East Midlands Ambulance Service. Air Ambulance services are provided by the North West Air Ambulance Service.
There is a well established North West Paediatric Transport Service (NWTS). The NWTS service is part of the North West Childrens Major Trauma Network . This service provides advice to Trauma Team Leaders in the emergency department of the Trauma units within the Network for time critical transfers if required. A benefit of the NWTS service is that some of the anaesthetists and intensivists employed by NWTS also have posts in the ChMTC's or TUs.
The two Major Trauma Centres serving the North West of England are:
• Alder Hey Children's Hospital
• Royal Manchester Children's Hospital
Trauma Units and Local Emergency Hospitals transferring to Alder Hey
Alder Hey Children's Hospital receives direct admissions from the following Trauma Units (TU) and Local Emergency Hospitals (LEH):
Cheshire and Mersey
• Arrow Park Hospital (TU)
• Leighton Hospital (TU)
• Countess of Chester Hospital (TU)
• Southport and Ormskirk Hospital (TU)
• Whiston Hospital (TU)
• Warrington Hospital (TU)
Isle of Man
• Noble's Hospital (LEH)
North West Midlands
• Leighton Hospital (Mid Cheshire NHS Trust) (TU)
• Royal Stoke Hospital (North Staffordshire Only) (TU)
North Wales
• Ysbty Gwnedd (LEH)
• Glan Clwyd (LEH)
• Wrexham Maelor (LEH)
Lancashire and South Cumbria
• Royal Lancaster Infirmary (TU)
• Blackpool Victoria Hospital (TU)
• Furness General Hospital (TU)
Trauma Units and Local Emergency Hospitals transferring to RMCH
Royal Manchester Children's Hospital receives direct admissions from the following Trauma Units (TU) and Local Emergency Hospitals (LEH):
• Stockport NHS Trust (TU)
• Royal Albert and Edward Wigan (TU)
• Royal Oldham (TU)
• Salford Royal FT Trust (TU / Adult MTC)
• Wythenshawe Hospital (TU)
• Fairfield Hospital (LEH)
• North Manchester General Hospital (LEH)
• Royal Bolton Hospital (LEH)
• Tameside Hospital (LEH)
Lancashire and South Cumbria
• Royal Preston Hospital (TU / Adult MTC)
• Blackburn Royal Infirmary (TU)
• Chorley and South Ribble Hospital (LEH)
• Burnley General Hospital (LEH)
• Macclesfield General Hospital (LEH)